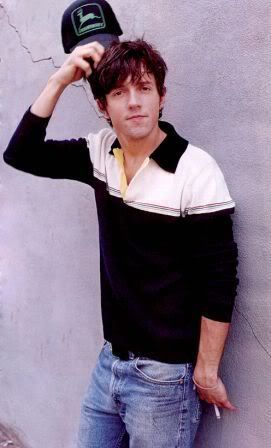 My love for Jason Mraz is like a tide—it ebbs and flows. The lows are, for the most part, never that low. The highs have been some of the best times of my life—like the summer of 2006 when my sister graduated college. I bought my weekend ticket to Sun Fest with the intention of also seeing Fiona Apple, scheduled to play the day before Jason, but brotherly duties prevailed and I proudly sat in on my sister's commencement.

The following day, me and two of my friends embarked on the first leg of our journey: a 300-mile drive to West Palm Beach. We endured the scorching sun and stood arm to arm to keep our place in the crowd of sun drunk youngsters. It was a great concert eventually eclipsed by the stellar Jacksonville show we drove to the following day (crazy, I know). Regardless, it was the perfect way to jump-start a summer vacation.

But the absolute highlight of the summer, and perhaps of all my concert experiences so far, was the solo acoustic show in NYC at Irving Plaza. The intimate Songs for Friends Tour was Jason's way of thanking the devoted fans who have stood by him since his humble beginnings at Java Joes.


Playing to a packed house on July 21, Jason stood under a single spotlight with a vase of white roses and a bottle of water behind him. He performed one gem after another, sailing through one of his strongest collection of songs,
The E Minor EP in F
, in the first 20 minutes. It was an unbelievable experience and I don't think any future concert I catch of Jason's will ever match it.
Alas, the closest I can get to that experience is playing the mind-numbingly beautiful Internet album
Homemade
—a collection of garage-recorded tracks compiled by Jason sometime in the late '90s. Long before the
record-breaking
reggae shuffle of "I'm Yours," the bombastic "Wordplay," and the monster-sized chorus of "The Remedy," Jason was a bustling acoustic performer in San Diego's music scene. Much of his early sets contained selections from this 14-track collection.
One
even made it onto his major label debut in 2002. For the most part, these songs are a snapshot of simpler times for Jason's career and it's absolutely thrilling to look back on. It's Jason at his best—effortless, angelic harmonies and brilliant songwriting. I couldn't possibly sum up my feelings on each track in a few paragraphs, so I'll let them do the talking.
Download this album—even if you aren't a fan of Jason Mraz as you currently know him. The joyful serenity of "One Find," "Strange" and Khalil Gibran adapted "God Moves Through You" is something you just can't beat.
Falling All Over the World
Eyes Open (Remember My Name)
(note: you'll notice fuzz on a few tracks, especially "Stranger in the Sky", but that's just the way the album was released)